INSPIRED BY MOVIES
Here are some things I have done just for fun.
Maybe some of them still will be used others sold or just left as decoration.
The Missing Link Skull
Another skull is born as I'm getting warmed up. This 'Missing Link' is as you sure know the link halfways from ape to human. An evidence that has never been found to conclude the Evolutionistic Theory. I imagine the skull to be heavier than a mans but lighter than a big monky's. The teeth are more human than 'apeic' and the Parietal bone is small as of an ape. The nose however, is much too big even for a Homo Sapiens! It was fun making it though.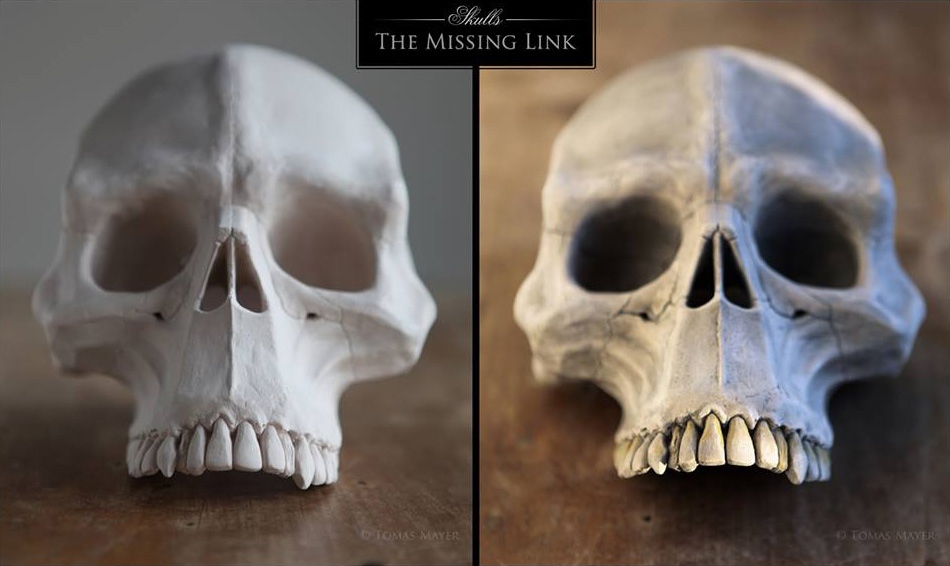 The making of The Missing Link Skull.
As the sculpting process goes from wet work to dry, every creative step has a natural moment. So, the 'tooth-picking' comes last.
The funniest part is the detailing but it's also the dustiest! I'ts comforting that all dry unburned clay dust can be reused.
I sculpted the skull in traditional clay and burned it in appr. 900°C. Because of the high temperature it's important to keep the clay tight without any air bubbles inside, otherwise it will most probably crack or explode. The tensions in the shape are also a risk, which makes the burning an unforgivable judge of your earlier work.


Peruvian Skull I
Hand made clay skull made from one piece as a warm-up before a bigger job.
The cranium is egg-shaped like those ancient artificially deformed found in the Andean Paracas or Peruvian cultures.
Burned it in two stages to avoid cracks first 900°C, then in 1200°C.

Fantasy Beaver Skull
This hand made clay skull was made from leftovers from a bigger skull project. I try not to waste clay :-)